Analytical Balance
Sartorious type, Short Beam Balance highly acclaimed
for Industries and College laboratories.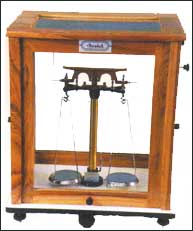 Beam : Brass Beam, graduated into 100 divisions with zero at center. Each division represents 0.2 mg.
Length of the Beam : 14 cm., with 2 poising nuts for zero adjustment.
Arrestment : Vertical lowering type. Plumb line to check level of balance.
Capacity: 200 gms.
Senstivity: 0.2 mg.
Knife Edge & Planes: Finest selected agates.
Case : Seasoned Teakwood, Highly polished with sliding front door.
Pans: Stainless Steel or Brass C.P.
Base: SunmicaTop Plywood base with levelling screws.
Readings are indicated by a pointer on white scale with black markings.
SemiAnalytical Balance also available.
Balance in ordinary wood also available.
ANALYTICAL WEIGHT BOX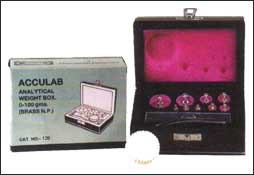 Chrome plated brass weights in polished velvet lined wooden case with hinged lid. Divided compartments with dust proof cover holds nickel silver and aluminium fractions. With chrome plated brass forceps. Accuracy plus-minus 5mg.
Weights are arranged in 1,2,2,5 pattern.
A Capacity 1 mg. to 100 gms.
B Capacity 1 mg. to 200 gms.
(Also available in Stainless Steel)