Lab. Instruments
Physicslabapparatus&instruments
Ammeter 
Air pump 15 cm
Barometer –aneroid
Barometer – mercury
Ball & ring apparatus
Calorimeter
Calorimeter-joules
Cathode ray tubes
Constant pressure air thermometer
Constant volume air thermometer
Co-efficient of linear expansion
Compound metal strip
Charcoal blocks (25x75 mm) box
Crucible 50 ml
Crucible tong
Charles law apparatus
Cell simple (volatile)
Cell leclanche
Coupling jar
Common balance with weights
Dip circle
Dania cell
Deflection magnetometer
Disc simple hole bleaching
Diffraction grating
Deflagrating spoon
Desiccators
Duplicator manual
Duplicator electronic
Distellation apparatus
Electro magnet u shape
Electric bell demo model
Electrolysis (water volt meter)
Eureka wire
Fly wheel 20 cm dia
File
Fractional weight box
Forcipes
Galva no meter
Gold leaf electroscope box type
Goggles for eclipse
Geometry box
Geometrical shapes
Gloves for hands
Hydrometer
Hygrometer
Hook's law apparatus
Hot air blower
Inclined plane set
Induction coil 10mm
Insect collection net-big
Inertia table
Inertia balance kit
Joule's calorimeter
Kaleidoscope
Linear expansion apparatus
Lamp & post outfit
Litmus paper red
Litmus paper blue
Lens holder v shape wooden
Mille ammeter
Mills voltmeter
Meter scale – wooden
Half meter scale –wooden
Magnet bar
Magnet bar – strong
Magnets u shape
Magnets u shape- long
Magnetic compass –big/small
Magnetic compass plotting
Magnetic compass -stand
Magnetic field apparatus
Melde'sbridge (wheat stone bridge)
Meter bridge
Morse key
Melting point apparatus
Multimeter
Multimeter –digital
Motor demo model
Moment of inertia table
Newton colour disc
Newton colour disc –rings apparatus
Over flow vessel
Ohm's law apparatus ac/dc
Optical bench
O h p projector
Pendulum bob's set of 6 different metals
Pendulum bob iron
Pendulum bob brass
Pendulum bob copper
Pulley's single , double & triple
Periscope (wooden & plastic)
Parallelogram of forces
Potentiometer
Poison's ratio of rubber apparatus
Post office box plug type
Post office box ratio
Pith ball pendulum
Pin hole camera
Pascal law (pressure string)
Plug key
Pohl's commutator
Resonance apparatus – iron pipe
Ripple tank (12x12)
Rheostat 6"/8"
Resistance box
Raising table
Reflection of sound apparatus
Rain gauge
Retard stand with clamps
 retard stand superior qty
Retard stand with poly lab
Ring clamp
Rubber tubing
Rock set in show case box
Minerals set in show case box
Set of alloys in a box
Screw gauge (10mm,15mm,20mm,25mm& demo model)
Screen wooden frame
Screen white
Screen netted
Simple pendulum demo model
Surface tension apparatus
Steam boiler-copper
Searle apparatus
Spherometer (small ,big & demo model)
Spring balance
Sonometer
Solenoid
Slotted weight
Sodium lamp
Solar cooker model
Specific  gravity  bottle
Steam  generator – 1 litre
Spectrometer
Set squares  big  set
Steward & gees apparatus
Scale  pan  single  500 gm capacity
Spring constant apparatus
Soldering  rod  set
Siphon  working  model
Steam   traps
Stethoscope
Stop clock
Stop watch
Stop watch – digital
Spirit lamp
Spatula
Tools kit
Tapping key single/double
Tangent Galva no meter
Ticker timer with transformer
Tuning fork
Tuning fork big (Welch)
Torsion pendulum 5"
Tripod stand small/big
Travelling  microscope  deluxe
Thermometer 'c'
Thermometer 'f'
Thermometer clinical
Thermometer maximum and minimum
Thermometer dry and wet
Vernier calipers (steel, big in box and demo model in wooden)
Viscosity apparatus
Vibration magnetometer
Wave motion apparatus
Water tap
Water bath
Water voltmeter
Young's model apparatus (searle's)
Clamps  with  pulleys
Lead shots
Wooden  blocks
Digital  balance
Forting  barometer
Rubber  hammer
Deflection  magnetometer
Vibration  magnetometer  brass
High  resistance
Jockeys
Powel's  wave motion apparatus
Cylinders   diff  materials
Copper  wire
Protractor
U tube  manometer
Wind  mill  model
YOU NAME IT WE HAVE IT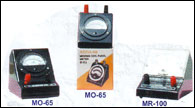 Acculab Educational Desk Meter Moving Coil: Meters are made from best quality material incorporating Jewel bearings, Hardened & Precisely Polished Pivots & chemically treated hair spring for corrosion protection. Meters are fitted with Alnico High Flux Density magnets & have Linear scale with sharp pointer & anti parallax mirror for error free reading. All meters are housed in moulded dust proof case with zero adjuster accessible from front. All meters confirm to IS specifications.
M.O. 65 : Round Dial Accuracy ±2% of FSD, Scale Length 55 mm ± 2mm. Available in desk top stand with top terminals or front terminals. Stands are made of ABS Plastic & have lock type terminals.
Dual Range Meters available on request.
M.R. 100 : Rectangular Dial Accuracy ±2% of FSD, Scale Length 85mm, clear acrylic front cover & front terminals ABS plastic stand. All common ranges 100 pA - 30A, 50mV - 250V, Galvo 30.0-30 or 50-0-50 are available. Moving coil meter can be supplied incorporating rectifier for AC use.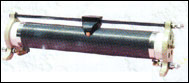 Rheostat:- Metal or bakelite feet to hold the porcelain pipe with the help of rod
& nut. Guide rod carries contact block. Slides are provided with Phosphorous Bronze contacts & move perfectly on sliding rod. 3 terminals are provided, 1 is connected to slide block enabling the Rheostat to act as Potentiometer. Oxidized Eureka wire is wound on an insulating heat resistant
porcelain pipe. Total resistance and maximum current capacity are marked on slider. Rheostats are available in tube dia of 4.4 cm & 5.6 cm.Since they are open type, unprotected rheostat, they should not be used in excess of 50 volts. For various range of ohms & Amps
refer to catalogue chart. Groove type Rheostat wound with Kanthal / Nichrome wire also available.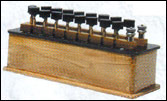 Resistance Box Plug Type :- To introduce resistance in circuit. Consisting of thickbrass blocks 12 mm, tappered, interchangeable plugs, fitted on a thick hylum sheet. Selected double cover Manganin wire is wound on bakelite spool. The windings are double silk covered & non-inductive. The wire is coated to minimize the effect of change of temperature. Sufficient time is given to bobbin to provide equilibrium. The coils are mounted on the lower side of hylum sheet. Various coils are connected by double contact system and infinity plug is provided. The whole assembly is fitted on a teak wood box which is polished. Accuracy ±0.05% to ±0.1 %. All ranges upto 10,000 D are available.
Decade Resistance Box :- Designed for quick, accurate work with laminated special grip contact rotated by a knob. Resistor Values printed on the panel are indicated by a pointer. Each contact position is indicated by a click. Each dial has 10 coils of equal value (may be 1/10, 1, 10, 100 or 1000/2). Manganin coils are non- inductively wound, properly varnished and aged for permanence of values over a period of time. Accuracy ± 0.05 % to ±0.1 %. DRBs are available in 1 dial, 2 dial upto 5 - dials, in teak wood box or chanel in chanel style metal box which is powder coated.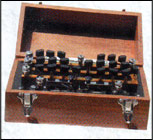 Post Office Box :- Interchangeable, Taper Plug type with split brass contact blocks 12mm thick. Npn-inductively wound, fully impregnated mangnin resistance coils having negligible temperature coefficient. The ratio arm each has resistance of 1 Q , 10/3,100/2, and 1000/3 in 4 ratio P.O. Box& 10/3 ,100/3 and 1000/3 in 3 ratio P.O. Box. Series arm has a resistance 11 to 11110 x 1/3 given by 16 coils. The panel is clearly engraved with nominal resistance values. 2 spring keys for battery & galvanometer are provided. External connections via 4 mm sockets are also available. Fitted in polished Teak-wood box with lid.