Physical Balance
Meant for General use in Schools & Colleges.
Simple in Character & Smooth in handling.
Can withstand Rough & Tough use.

Fitted in Teak-wood case having side glass doors.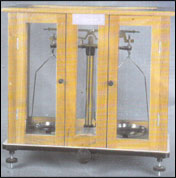 Beam : Long, open type of Medium Length, made from hard Brass, graduated in 10 divisions on each arm for use of rider.
Length of the Beam : 20.2 cm. with 2 poising nuts for zero adjustment.
Knife Edge & Planes: 7 selected agates, fine ground.
Capacity: 250 gms.
Sensitivity: 1 mg.
Pans : Brass or Stainless Steel Pans, 10 cms diameter.
Base : Plywood base with Sunmica Top and levelling screws. Plumb Line for level adjustments.
Nicely packed with shock absorbing material and outer thick corrugated case. Physical Balance in ordinary wood also available.
Physical Weight Box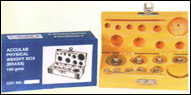 Chromium plated brass weights, in polished hard wood box with hinged lid.Fractional weights are saperately housed in Plastic Box. With chrome plated brass forceps.
Capacity 1 mgto 100 gms
Capacity 1 mgto 200 gms
Capacity 1 mgto 500 gms
Capacity 1 mgto 1000 gms